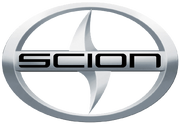 Scion is a brand of vehicles produced by Toyota. Scion partnered with Skybound Entertainment to create a new Scion iA project car.
"Outcast" Scion iA Project CarEdit
The vehicle is inspired by Robert Kirkman's comic Outcast by Kirkman and Azaceta. The vehicle performs a two-minute choreographed program that runs through a series of its automated features, giving the impression the vehicle is possessed.[1]
Five Axis Custom Aero Kit
Five Axis Custom Blended 3 Stage Outcast Orange Candy Paint With Custom Graphics and Pinstripe
Custom Logo'd Suede Seat Inserts and Headliner
Custom Illuminated Logo Panel
Suspension and chassis
Edit
Modified Air Actuated Suspension and Ride Height
Toyo Proxes R1R; Front And Rear: 225/40R18
Special features[1]Edit
Vehicle is equipped with a special 2 minute choreographed program that runs through a series of automated feature giving the impression the vehicle is possessed or has a mind of it's own. Below are the main components of these features:
Animated LED Front Bumper Bar
Color Changing LED headlights
White Out Window Film
Auto Opening Actuated Rear Doors
Auto Opening Actuated Gas Filler Door
Auto Steering Actuated Front and Rear Wheels
Auto Actuated Suspension
Animated Rear Tailights
Auto Opening Glove Box
Auto Smoking HVAC Vents With Fire Illumination
Auto Reclining Actuated Seats
Auto Actuated Steering Wheel
Blood Splatter Projected Graphics On Windows
Custom Pioneer 11 Speaker, 3000W Audio System
References
Edit
Ad blocker interference detected!
Wikia is a free-to-use site that makes money from advertising. We have a modified experience for viewers using ad blockers

Wikia is not accessible if you've made further modifications. Remove the custom ad blocker rule(s) and the page will load as expected.