Chief Brian Giles is a police chief and good friend of Reverend Anderson.
Biography
Edit
Giles played a game of poker with Reverend Anderson prior to Anderson hearing news about Joshua Austin. After Joshua was freed, Anderson talked Giles into freeing Kyle from his arrest.[1]
Weeks later, while playing another game of poker, Giles sat through as Reverend talked about who God doesn't care what anyone really does and was told to masturbate all he wants.[2]
After Megan threw Mark out the window (albeit possessed), Brian arrived to the scene and questioned her. After Megan found out her daughter was alone in Kyle's house, Giles ran after her. When they arrived, Reverend Anderson beat up Sidney and Giles had no choice but to arrest his friend.[3]
Giles told Anderson he was free on bail but he refused to let him go until he knew Anderson wasn't going to make things worse. Eventually, Giles let Anderson go.[4]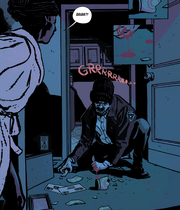 That night, Giles, Reverend Anderson, and a few others played a game of poker. When Giles returned home, he became possessed, waking his wife up.[5]
Appearances
Edit
A Darkness Surrounds HimEdit
This Little LightEdit
References
Edit
Ad blocker interference detected!
Wikia is a free-to-use site that makes money from advertising. We have a modified experience for viewers using ad blockers

Wikia is not accessible if you've made further modifications. Remove the custom ad blocker rule(s) and the page will load as expected.